1x Fisher-Price Butterfly Dreams 3-in-1 Projector Mobile
3 functions: Stroller mobile, cot mobile, tabletop projector
30 minutes of music and projections
Choose from 8 melodies
Innovative cry sensor
Batteries required
From birth
Product Description
The Fisher-Price Butterfly Dreams 3-in-1 Projector Mobile is a soothing baby mobile with music, light shows and spinning bears. This 3-in-1 naptime companion can be used as a baby cot mobile, stroller mobile or tabletop projector.
Fisher-Price Cot Mobile
Little ones will love watching the cuddly butterfly bears spin from the Fisher-Price musical cot mobile. As the baby mobile turns, the projector creates a beautiful light show in baby's room, throwing starry light patterns on the walls or ceiling. The Fisher-Price Butterfly Dreams 3- in-1 Projector Mobile features 3 calming audio modes, with up to 30 minutes of lullaby music, white noise or soothing nature sounds.
Stroller Mobile
Clip the spinning bears to your stroller canopy to take sweet dreams on the go. This forms a handy stroller mobile, offering a level of familiarity to your little one. Just seeing those soft toys spin overhead can be soothing for a baby.
Tabletop Projector
Keep baby's soothing bedtime routines going as they move from cot to toddler bed. Just remove the spinning mobile and place the projector in the baby's room to switch the Fisher-Price Butterfly Dreams Mobile to tabletop projector mode. Little ones can still hear their favourite bedtime tunes and watch the stars as they drift off to sleep.
Sensory Play
Sensory play is hugely beneficial to your baby's development. Sensory toys with lights and sounds, like this baby cot mobile, are great for stimulating your baby's senses.
Butterfly Dreams 3-in-1 Projection Mobile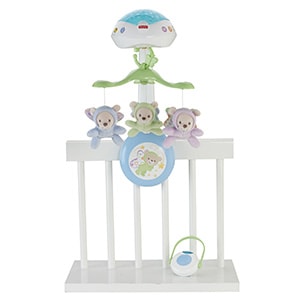 Soothe baby to sleep with a beary sweet light show projection mobile
Star light, star bright, wishing for baby to sleep tonight? Little ones love gazing up at this motorized crib mobile with starry light show projection and three soothing audio modes. As baby gets older, convert the Butterfly Dreams 3-1in-1 Projection Mobile to a tabletop projection soother and maintain that hard-won bedtime routine. Or link it to the stroller canopy for entertaining on the go. Everyone's sweet dreams are coming true.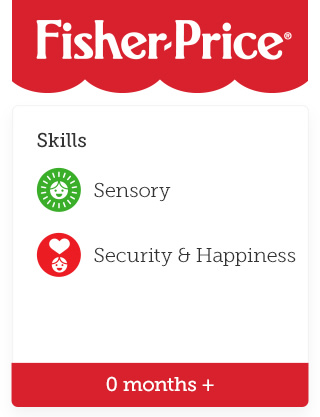 Key features
The Fisher-Price Butterfly Dreams 3-in-1 Projection Mobile helps soothe baby at naptime or bedtime with a starry light show, three butterfly bears slowly rotating overhead and three audio modes that provide up to 30 minutes of calming music or sounds. Colours. Characters. Lights. Motion. Music. It's all important. These features (all included in this mobile!) help entertain, create a sense of sleep-time routine, encourage eye- tracking and stimulate important senses, like sight and hearing.
As a crib mobile, the soft-glow starry light show, gentle sounds and music and sweet butterfly bears dancing overhead help baby to understand when it's time to wind down and go to sleep. When baby outgrows a crib mobile, convert it to a table top musical projection soother for older babies and toddlers. As a stroller mobile, it easily clips to almost any stroller canopy so baby can enjoy seeing those familiar faces wherever you ride.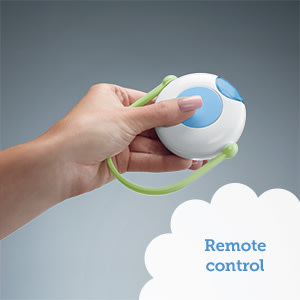 Remote control lets you start or stop the soothing without disturbing baby. Late nights. Middle of the nights. Early mornings. Mid-day meltdowns. Serenity is closer than you think. Nothing a Fisher-Price mobile can't help! All of these calming features help surround baby with a consistent bedtime routine. Sweet dreams, little one.
Baby development
Sensory- Floating bears and a starry light show are just right for baby's developing sense of sight.
Security & Happiness- Converts to a tabletop musical projector and on-stroller mobile, so when the crib goes away, the soothing and fun can stay!